Nikola (NKLA) is establishing itself as one of the most volatile stocks in the market. After surging nearly 40% on news of the Nikola-General Motors (GM) deal, Nikola's stock quickly plunged as a result of major fraud allegations. These fraud allegations are only compounding the growing number of issues surrounding Nikola. Even under the best of circumstances, Nikola will have an incredibly tough time competing in the clean energy transportation industry.
Nikola has experienced a great deal of volatility over the past week as a result of mixed news.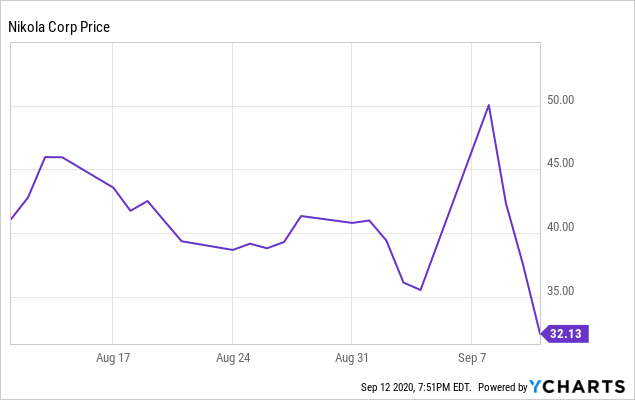 Questions Begin to Swirl
Nikola is one of the most controversial companies in the fast-growing clean energy transportation industry. The company's suspect claims of technology breakthroughs, seemingly frivolous lawsuit against Tesla (TSLA), and missed deadlines have already attracted a legion of Nikola skeptics.
The recent fraud allegations from Hindenburg Research have greatly intensified the skepticism surrounding Nikola. Hindenburg Research claims to have "gathered extensive evidence—including recorded phone calls, text messages, private emails and behind-the-scenes photographs—detailing dozens of false statements by Nikola Founder Trevor Milton."
Hindenburg Research also stated that they "have never seen this level of deception at a public company, especially of this size." To make matters worse for Nikola, Citron Research came out in support of Hindenburg Research by congratulating Hindenburg Research for "exposing what appears to be a total fraud."
Nikola has taken a huge hit with these recent short reports and now has top figures in the finance media questioning the company's credibility. Growing investor skepticism will only make it harder for Nikola to raise money and maintain its hype, both of which will be vital to the company's success.
Issues with Core Technologies
Even putting aside potential fraud, Nikola's prospects do not appear to be strong. Hydrogen fuel cell technology, which Nikola appears to be pinning much of its hopes on, is undeniably losing the battle against battery technology. While hydrogen fuel cell technology may have an advantage in certain markets, like heavy-duty trucking, it is rapidly falling behind battery technology.
Although Nikola also plans to invest heavily in battery electric vehicles, there is little chance that the company will be able to compete against the likes of Tesla and a plethora of other major automotive companies entering the industry. In fact, Nikola has yet to deliver a single vehicle, which makes its current valuation of $12 billion seem even more absurd.
It seems highly unlikely that Nikola will be able to compete against established BEV players like Tesla even in the trucking market.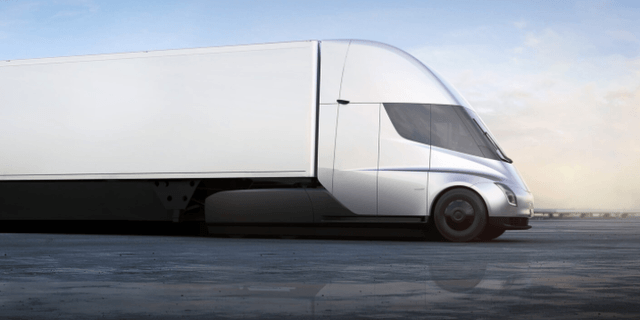 Source: Tesla
GM Deal Raises Even More Red Flags
Nikola recently struck a deal with GM in which it will give GM a $2 billion equity stake. GM, in return, will "engineer, validate, homologate and build the Nikola Badger and fuel cell electric vehicle variants." Nikola will also be using GM's Hydrotec fuel cell technology and Ultium battery systems.
While Nikola's GM deal appears to be a huge win for Nikola, it actually raises some red flags. Considering the fact that Nikola previously claimed to be a leader in the BEV and fuel cells, the company's heavy reliance on GM's technology is suspicious. Nikola appears to bring very little to the GM deal in terms of making the actual product.
Nikola's reliance on GM's technology further damages Nikola's credibility considering its previous technology breakthrough claims. It is strange that Nikola will rely so heavily on GM's technology when its own is supposedly industry-leading. Nikola's GM deal does little to assuage fears surrounding the company's long-term prospects.
The GM deal only puts more doubt on Nikola's own technology.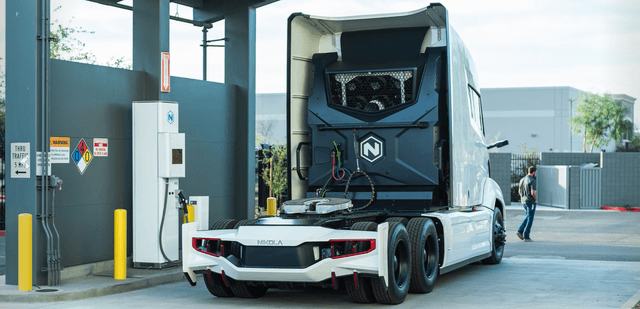 Source: Nikola
Lack of Infrastructure
Even under the unlikely scenario in which Nikola does end up making industry-leading fuel cells and batteries, the company simply lacks the infrastructure to properly compete. It could take billions in investment to build a somewhat competitive hydrogen fuel cell infrastructure alone.
Major hydrogen fuel cell companies like Plug Power (PLUG) have consistently failed to live up to the hype surrounding fuel cells. It seems incredibly unlikely that a relatively new upstart like Nikola will be able to do what decades-old fuel cell companies have failed to do.
Nikola will have an even harder time building out a competitive battery infrastructure considering the presence of Tesla. Tesla has already built thousands of supercharger stations, each of which costs around ~$250,000. The number of supercharger stations will likely only grow exponentially in the coming years.
Considering the fact that Nikola has yet to deliver a single vehicle, its hope of competing in the battery space appears even more laughable. With Tesla and some of the world's largest automotive companies investing untold billions into BEVs, Nikola has very little chance of surviving in this market.
Conclusion
Nikola is far too overvalued at its current market capitalization of $12 billion. The fraud allegations facing Nikola will only put more downward pressure on the company's stock. Furthermore, Nikola's core technology appears to be questionable at best, especially given the details of its GM deal. Investors would be wise to avoid Nikola considering all the issues facing this company.
Disclosure: I/we have no positions in any stocks mentioned, and no plans to initiate any positions within the next 72 hours. I wrote this article myself, and it expresses my own opinions. I am not receiving compensation for it (other than from Seeking Alpha). I have no business relationship with any company whose stock is mentioned in this article.